PIERRE MEYER
Born in Basel, Switzerland
Lives in Binningen, a village close to Basel
Gymnasium for Mathematics and natural Science
Chemical studies at the University of Basel
Production chemist at Sandoz Ltd. Basel, later Clariant Ltd. Muttenz.
Different national and international functions
Retirement
Artistic development during studies and professional time
Wood carving as a leisure time occupation
Carving of miniatures (cherry-, apricot-, peach-, and olive stones)
Carving and sculpturing as relaxation during phases of major projects
Sculpturing develops into a creative counterpart to management and planning
responsibilities. For many years, the switching between work at home for the
job and sculpturing becomes a source of creativity for both activities.
Artistic development since retirement
Course in sculpturing at the workshop of Maggy Leuthold in Wegenstetten
Etching course at the printing workshop in Basel with Marcel Göhring and Florian Dammeyer
Lithographic course at the printing workshop in Basel with Florian Dammeyer
Sculpturing in Wegenstetten and at home
Creation of miniatures out of different materials
Drawing and painting during holidays
Works with toner powder on different carrier materials
Exhibitions
(single=S, group=G)
Das Eine und das Andere (The One and the Other) / QuBa, Basel (S)
Zwischenräume (Intervals) / Local gallery, Aesch (G)
Skulpturen – Miniaturen – Lithografien (Sculptures - Miniatures - Lithographies) / Rütlistr. 50, Basel (S)
Lithografie heute (Lithography today) / Local museum, Lausen (G)
Spiel, Kampf mit der Materie (Play with the matter) / Clariant Ltd., Muttenz (S)
Lithografie-Gruppenausstellung (Group exhibition: Lithography) / M54, Basel (G)
Int. Print and Lithography Symposium / Tidaholm, Sweden (G)
Zwei Wunderkinder (Two child prodigies) / Kronen-Center, Binningen (G)
Zwei Wunderkinder, reduziert (Two child prodigies, reduced) / Optician shop, Binningen (G)
Miniatures – Sculptures – Toner Pictures – Etchings / JetztOderNie, Flüh (S)
Printed graphic works from the printing workshop Basel / Druckgraphik-Atelier, Berlin (G)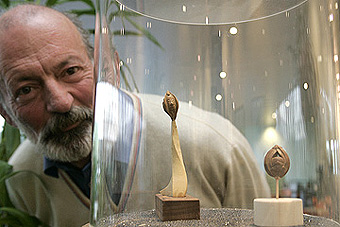 (Photo: Kenneth Nars)